About Bali
Bali is a living postcard, an Indonesian paradise that feels like a fantasy. Soak up the sun on a stretch of fine white sand, or commune with the tropical creatures as you dive along coral ridges or the colourful wreck of a WWII war ship. On shore, the lush jungle shelters stone temples and mischievous monkeys. The "artistic capital" of Ubud is the perfect place to see a cultural dance performance, take a batik or silver-smithing workshop, or invigorate your mind and body in a yoga class. If you want a lovely holiday in a place, where the contemporary world has just reached, but not tainted, Bali is one of the ideal places to visit. It makes a thriving trade in the tourism, but mostly the entire island is the untouched wilderness, where the locals still speak their own language, but the whole culture is utterly mesmerising.

If you and your precious half are dreaming of an exotic and magical honeymoon, pick Bali as a honeymoon destination. Out of Indonesia's 17,000 islands, Bali paints a romantic picture with its tropical rainbow of shores, towering volcanoes, lush green rice paddy fields and dense jungles. Its natural beauty combined with its rich cultural offerings, curious traditions, and lively nightlife make it an exciting honeymoon destination. And if newlyweds want some private time to themselves, there are plenty of little known gorgeous spots to hide away in. A honeymoon in Bali is about all the experiences imaginable, turning it into a paradise for lovers.
Do Indians need a visa for Bali Indonesia?
If you stay less than 30 days then you do NOT NEED any Visa if you have an Indian passport. At the immigration counter you will get what we call an Visa Exemption Stamp.There are no costs involved; it's not a visa in a classical sense. Yet, the stamp allows the officials to track your length of stay.

This Visa Exemption CANNOT BE EXTENDED. You will have to leave Indonesia within 30 days!
What are the places to visit in Bali?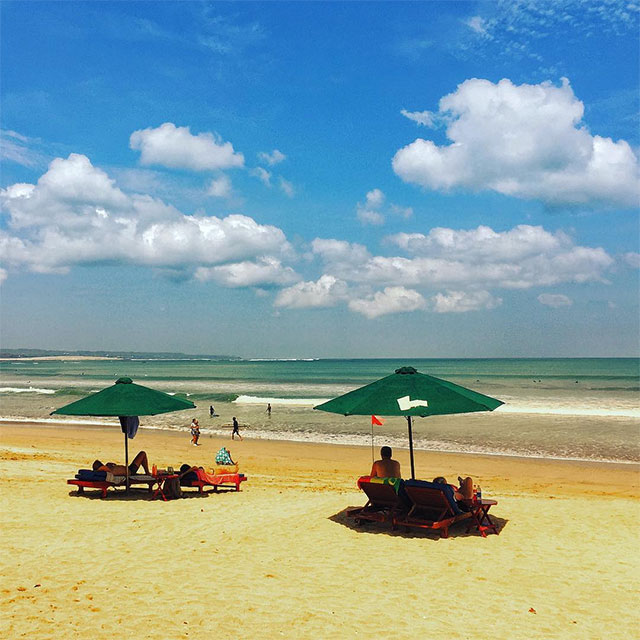 Kuta Beach
Kuta beach is also known as Sunset Beach, as opposed to the Sunrise Beach, another name for Sanur Beach.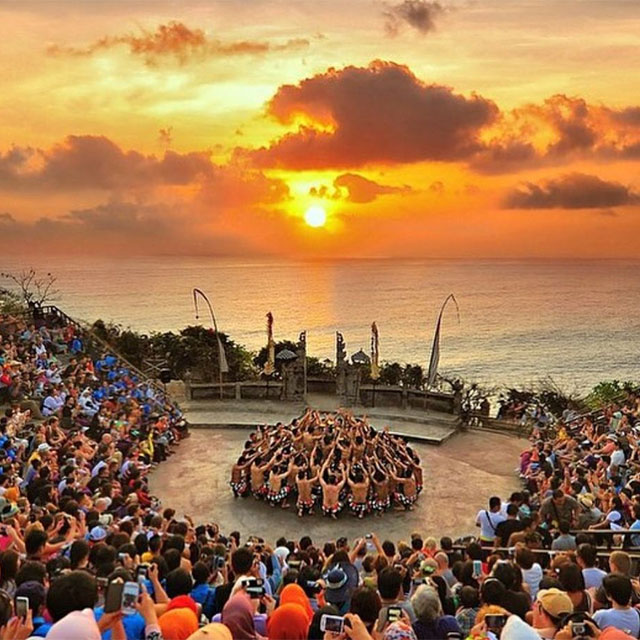 Sunset Kecak Dance at Uluwatu
Historic Uluwatu Temple, mythological Kecak dance and delicious barbecue seafood.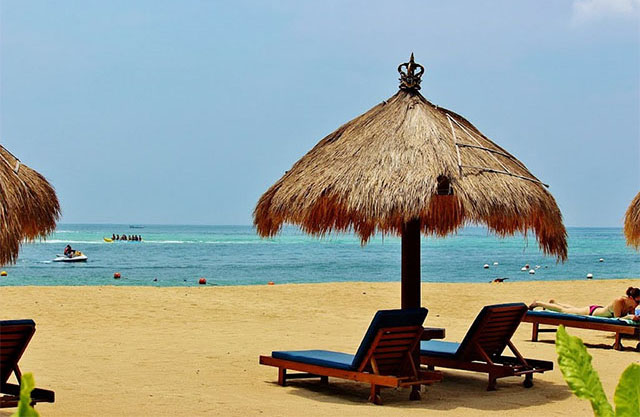 Nusa Dua
When Bali itself is the timeless beauty, this place is amazing. It occupies the major chunk of Bali. This is situated on the eastern shoreline; Nusa Dua is the actual home for the most developed area of Bali. It houses numerous temple, museum and a lot of attractions, which make this a perfect place to visit. This is a territory of top world-class hotels, shopping complexes as well as luxurious stays.
Gape at the Tanah Lot Temple
The temple is one of the beautiful and stunning attractions of Bali. This mystical beauty got just separated from the mainland as time passed by and this is now in the mid of a beach. It dates to an almost 15th century, and this is a striking backdrop when paired along with the sunset or sunrise.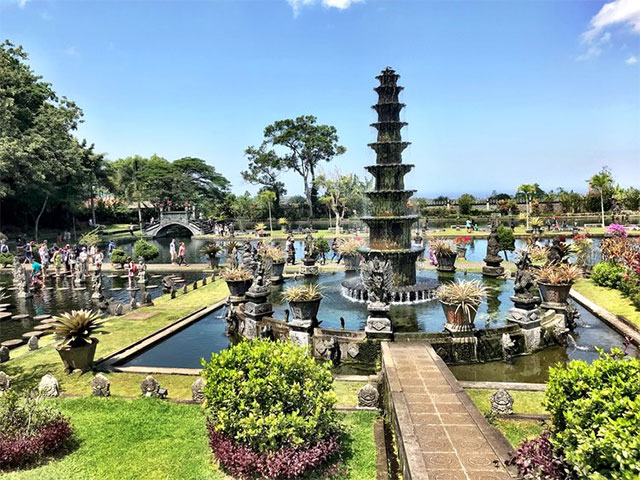 Tirta Gangga
The cool spring pools at Tirtagangga is situated some 15 KM northwest of Amlapura, on the way to Singaraja. The spring pools which refer to sacred river of the Hindus are somewhat refreshing.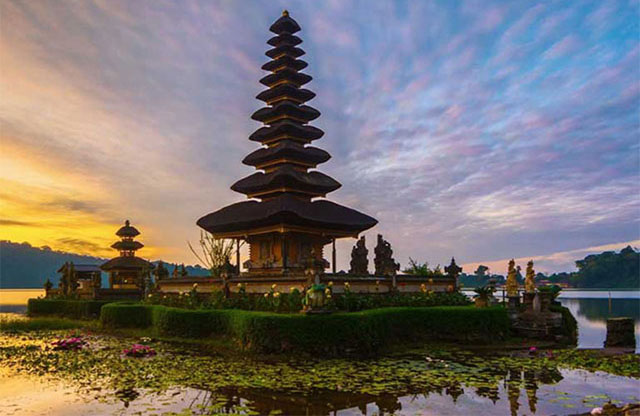 Bedugul
In the center highlands of Bali in the serene mountain area of Bedugul. Here, vegetables, fruits, and flowers thrive in the alpine climate, and a colorful little market at Bukit Mungsu offers a wide selection of produce including exotic wild orchids, roses, and colorful birds. There is a large botanical garden nearby.
Bali Holiday Packages
Bali has a well connected international airport named Denpasar International Airport. The airport is connected to cities like Kuala Lumpur, Auckland, Hong Kong, Shanghai, and Singapore. If you're coming from India you'll have to opt for connecting flights.

Bali attracts the adventure souls from all around the globe towards itself. So, whether you are a backpacker, surfing enthusiast, diver or simply looking to indulge in an adventure of your lifetime, Bali is the place for you. From so many options to choose from, the Island wont disappoint you. What makes Bali a unique Island is the hippy and spiritual vibe associated with it. Home to many mystical monasteries and temples, Bali is a haven for those seeking spirituality and finding themselves. Take a break from the dreaded, hectic lifestyle and soothe your senses amidst the turquoise oceans and calm ambience. This factor has given Bali tourism a boost since the 20th century. Bali is adorned with beautiful temples. For a peaceful and meditative session, visit the temples of Saraswati, Tanah Lot, and the Besakih Temple.

Bali has a tropical climate almost throughout the year. The best time to visit Bali is around May, June and July. Tourists keep pouring in all year round. This is solely because the weather is pleasant throughout. With so many activities flourishing in this area, people do not want to miss out on the same. Holidaying in Bali is as pocket-friendly as it could get being an international hot-spot. It is cheap and offers the same exotic experience as any other beach destination. Bali offers visa-on-arrival, but you can book for a prior visa. You can find numerous flights that will take you to Bali. These flights can be found at every airport throughout India and are easily accessible. You will land at Ngurah Rai International Airport which is about 13 kilometres away from Denpasar, the capital of Bali and the main gateway into the island of Bali. Some of the most economical and comfortable flights are offered by Thomas Cook that are covered in.

There are tremendous options for things to do in Bali and the places you can visit to make the most of your Bali holiday. Apart from temple hopping that is a part of many Bali holiday packages, never miss the magical sightseeing offered by Bali. Breathtaking sunrise or sunset from atop any of the four volcanic mountains that Bali houses are a treat to the eyes. The tranquillity will take over all your worries. Mount Batur, Mount Agung, Mount Bratan and Mount Merbuk are the four volcanic mountains, and all of them offer breathtaking views. Head for an adventurous motorbike ride along the rice terraces and rugged trails. They are so green that you'll be seeing green for the rest of the day. Ubud and Tegalalang hail the most popular rice terraces and we recommend going early in the morning to avoid the crowd and enjoy the lush greenery. The beautiful views will be the high point of your relaxing Bali holidays.

If you are not a fan of motorbikes and exploring the island through its edgy lanes, dive in the marine heaven. Considered as a surfer's paradise, Bali is an ideal destination that serves perfect surfing conditions such as right wind speed, excellent waves. Beach bumming is an incredible way to relax in the glimmering shores and discovering a whole new world of exotic underwater life. If you are an amateur, you can opt for surfing classes under professional supervision. Apart from surfing, you can snorkel. Swim and end it all with a fun-filled cruise trip. Bali is considered as a surfer's paradise, mostly because of the excellent waves which are ideal for surfing. Many Bali packages include surfing lessons and cruise trips, choose according to your preference. So there we have it. Get your tickets and get going to Bali, a beautifully diverse island. Bali holiday packages are a rage, and you can even customise yours that just suits your needs.

Bali has an adventure to please and pamper every type of romantic soul, making it the perfect honeymooners' destination. Plan your honeymoon to Bali and begin your nuptial journey as it gives you and your loved one a million ways to express and experience the different flavours of love.
© 2018 All rights reserved. visitasia.in